RCAWD
RCAWD full metal front CVD portal axle for 1/24 Axial SCX24 crawlers
$65.00
Free Shipping in the US, CA,UK, GE, FR, IT, NL, BE, ESP, JP...
Free replacement or refund for any quality issue.
7x24h customer service, free technoloy support
Description
Shipping and Refund
Reviews
We upgrade dogbones to CVD drive shafts
CNC machined Aluminum alloy front portal axle housing w/steel gears&brass worm gears&brass third member housing&brass hex 
for Axial 1-24  SCX24 crawlers
Features:
Replacement of Parts
Hard-anodized colour,CNC machined PTFE-coated hardened alloy 6061-T6
The lightweight aluminum alloy material is durable and improves the overall performance of the portal axle housing
Aside from the great looks, aluminum alloy will not flex as much as plastic under stress or during high ambient temperatures.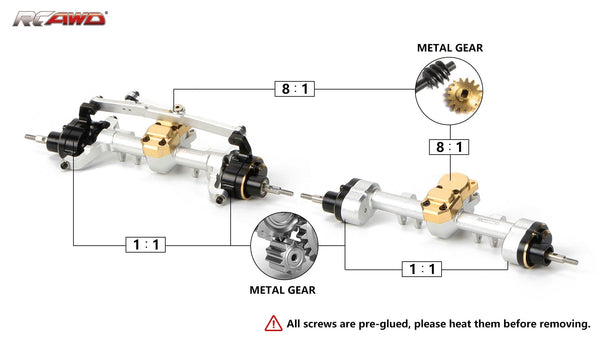 Specification:
Compatible with: 
brand name: Horizon Axial SCX24,  item number: AXI90081, AXI00001, AXI00002,   AXI00005
 
Material : Aluminum Alloy + brass + steel
Package Include:
Front portal axle housing with gears x1
7mm brass hex hub adaptor x2
brass third member housing x1
Note:Check your specific model's manual for compatibility,or Contact us.
Tracking link: https://www.17track.net/en?_ga=2.185379049.1906507139.1647998599-1154422637.1647998599
Shipping  
We ship worldwide to nearly every country across the globe, we employ the services of major, trusted international carriers to ensure your package arrives at your destination fast and securely. We also offer free flat rate shipping on almost our products to some destinations. 
Free Shipping in the US, CA,UK, GE, FR, IT, NL, BE, ESP, JP...
Estimated delivery time(business day)
North America: 3-10days
Asia: 3-8days
West Europe: 4-10days
Note: Shipping times may be affected during public holidays as manufacturers and couriers will limit their operations during these times. Though this is unfortunately out of our control, we will try our best to improve on this issue.
 Delivered  
Note: For tracking numbers, it may take a few days before they become active on the tracking website. If the information is not available please try again later. Please rest assured that the estimated shipping time is valid regardless of the tracking site updates.  
Returns/Exchange Policy
 You can return your purchase for up to 45 days from the date of your purchase. We will not accept returns after this time period.
Returned products must be in the condition you received them and in the original box and/or packaging.
The customer will pay for return shipping fees.
Shipping fees from the original purchase are non-refundable.
If You Received the Wrong Product
 Contact us at support@rcawd.com and send us an image of the item and its packaging. We will do our best to get the right product or refund to you as soon as possible.
Axles
Good looking product would recommend to anyone doing axle upgrade
Excellent parts
Very nice quality parts the fit is perfect and they run smooth
Magnificent Glory
In a time of horrific social upheaval due to PLAGUE, we remember the ancient Chinese curse, "May you live in interesting times".
These portal axles are the greatest thing that has happened to my family since before the Vatican II accords. Dozens of my long lost family members saw my instagram posts about these axles and assumed that I had become some sort of European Royalty who could afford to build custom rigs for fun.
TLDR; buy as many of these as you are legally allowed in whichever province you live. It will change you, both as a human, and as a member of this glorious society we call humanity.
It is a bit hard to see because I am terrible at photo, but I put a treal baseplate next to the front diff for scale. It is literally 50% higher off the ground than stock.
On top of all this, the action is quite smooth. I have had a few hicups building my own custom axles using random "hardened steel" parts and this clears up all of that problem. It actually is cheaper than the heavily built up axles in the other photo.
Please, for the love of all that is good in this world, if you are going to modify your axles in any way at all, choose this mod. The clearance gains are beyond anything you can get from anything else.
I did add a few extra rubber o rings to make everything smooth. If I could add anything, it would be a packet of free tiny o rings.
Delivered from China faster than I typically get things delivered from East Coast.
Great!
Nice quality materials. Turning radius a little better than stock. Could use some washers/shims to take the play out of the worm gear. The drive gear, under the worm gear could also use some washers/shims to keep it centered. There is a lot of room in between the bearing and the drive gear. One of the shafts was able to spin in the brass drive gear. I had to add my own washers to keep it centered. Adjustable steering linkage would be nice as well, quite a lot of toe in the alignment. Overall pleased with the purchase.
thanks for your time and very fast delivery
thanks for your time and very fast delivery